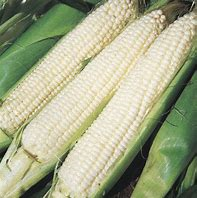 SILVER QUEEN SWEET CORN 1/2 LB.
Sale price Price $16.28 Regular price $18.95
When to Start Corn Seeds
Corn is best sown outdoors after all danger of frost has past in spring. Sow in warm soil -- optimum temperature is at least 60 degrees F. Sweet Corn can be started indoors 2 weeks before the last frost at a temperature of 70 to 75 degrees F, but direct sowing is recommended.
These gigantic 8-foot stalks yield a great bounty of 8- to 9-inch ears, each stuffed with crisp, tender, sweet white kernels arrayed in 14 to 16 jam-packed rows. Resistance to Bacterial Wilt means even bigger harvests! If you like Silver Queen, try Silver King (a slightly larger white that matures 10 days sooner) and yellow-kernelled Golden Queen -- the Royal Family of sweet corn!
Variety: Silver Queen Hybrid
Days To Maturity: 92
Fruit Color: White
Plant Height: 8 ft
Fruit Length: 8 in - 9 in
Additional Characteristics: Edible
Light Requirements: Full Sun
Moisture Requirements: Moist,  well-drained
Soil Tolerance: Normal,  loamy