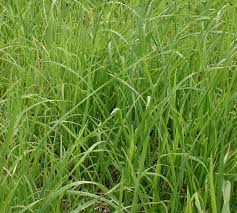 ORCHARD GRASS SEED
Sale price Price $79.00 Regular price
Orchardgrass, is a persistent, cool season bunchgrass. Under dry land conditions, it usually develops distinct clumps and flower culms 15 to 18 inches tall. Leaves are usually less than 12 inches in height. When grown under irrigation or in more moist situations, it attains a height of 24-28 inches. No vegetative spread has been observed. Orchardgrass is one of the earliest species to grow in the spring, making tremendous growth during cool conditions. Due to deep roots, it also is capable of strong summer growth when conditions are favorable.
Erosion control: Because of its dense network of roots, Orchardgrass provides good erosion control on those soils to which it is particularly adapted.
Wildlife: Orchardgrass is used in grass-legume mixes for nesting, broad rearing, escape and winter cover for upland game birds and conservation plantings.
The seeding rate is 8 to 12 pounds/acre. For range and critical area treatment a seeding rate of 3 to 4 pounds/acre is recommended. If broadcast, double the seeding rate. Adjustments in seeding rate should be made when seeding in mixtures. Seeding depth should not be more than 1⁄2 inch.