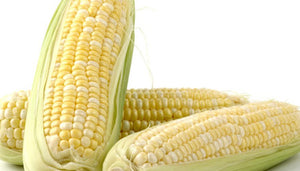 Corn, Peaches and Cream Variety
Sale price Price $12.95 Regular price $18.95
A bi-colored corn that is a popular favorite. Peaches and cream corn actually gives two different flavors in each bite.
Sow corn seed 1 inch deep, 5 to 6 inches apart in rows 2 to 3 feet apart.
Seedlings emerge in 7-14 days.
When corn seedlings are 3-5 inches tall and healthy, thin to 1 foot apart.
Full sun
Sunflowers are good companion plant for corn. Direct sow sunflowers in rows parallel to corn rows to help separate corn varieties that need isolation from each other. Choose sunflower varieties of comparable height to the corn plantings.
Companion plants: squash and peas 
Would make a great addition to a food plot. 
1/2 lb estimated 1,038 seeds
5 lb estimated 10, 385 seeds