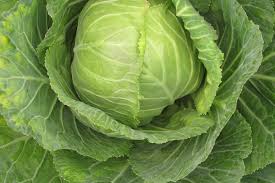 Cabbage Copenhagen Market Variety
Sale price Price $4.00 Regular price $15.95
Uniform, round heads measure 6-8 inches in diameter and weigh about 4 pounds each. Copenhagen Market Cabbages are one of the largest early-maturing round head varieties on the market. Nice, mild flavor.
 When to Plant:
Cabbage seeds should be started inside around 6-8 weeks before the last frost in the Spring.

Harden them off and then transplant them outside 2-3 weeks before your last expected frost.
How to plant:
Place your transplants about 24 inches apart for larger heads, or closer for smaller heads.
How to harvest:
You can harvest your cabbage as soon as the head is firm all the way through when you squeeze it.*Cabbage is a heavy feeder, so it takes more nutrients from the soil than normal.
65-70 days to harvest
Avoid planting cabbage by tomatoes, strawberries and broccoli to ensure that they grow to their full potential.
1/2 LB = 64K Seeds
1 LB = 128K seeds