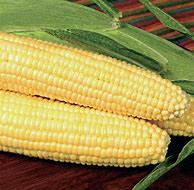 BODACIOUS SWEET CORN 1/2 LB.
Sale price Price $18.04 Regular price $22.50
When to Start Corn Seeds
Corn is best sown outdoors after all danger of frost has past in spring. Sow in warm soil -- optimum temperature is at least 60 degrees F. Sweet Corn can be started indoors 2 weeks before the last frost at a temperature of 70 to 75 degrees F, but direct sowing is recommended.
The tender 8-inch ears -- nearly 2 inches across -- are filled with about 18 rows of bright yellow kernels, all bursting with sweet flavor. Strong stalks reach 7 feet tall.
Sugar-enhanced corn is creamier and more tender than Super Sweet, with stronger old-fashioned corn flavor, yet is sweeter than regular Sweet hybrids. This delicious variety retains its sweetness for up to 10 days after harvest. No isolation from other corn is necessary, and germination is easier than with Super Sweets.
Variety: Bodacious Hybrid
Days To Maturity: 75
Fruit Color: Yellow
Plant Height: 7 ft
Fruit Length: 8 in
Fruit Diameter: 2 in
Additional Characteristics: Edible
Light Requirements: Full Sun
Moisture Requirements: Moist,  well-drained
Soil Tolerance: Normal,  loamy
Uses: Outdoor