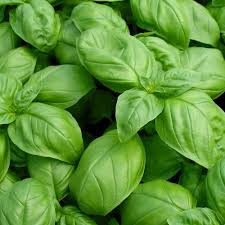 Basil, Italian 1 OZ.
Sale price Price $1.35 Regular price
Italian Basil variety for perfect pesto, tomato dishes & pasta and more. 
Summer/fall harvest
Heat-loving, frost tender
Plant late spring weather has thoroughly warmed up, sow seeds 1 inch apart in well worked fertile soil in full sun. Cover 1/4 inch deep, firm soil and keep seedbed moist. Germination takes 1 to 2 weeks. After seedlings are well established, thin or transplant 8 inches apart to allow plants room to mature.
To Grow Indoors:
Sow seeds 1 inch apart in a container of seed starting mix, 4 to 6 weeks before last expected frost. Keep warm and evenly moist, and provide a good light source. When seedlings are large enough to handle and weather is warm, acclimate gradually to outdoor conditions before planting in the garden 8 inches apart.
Pinch off growing tips when plants are 6 to 8 inches tall to encourage branching. Harvest sprays of leaves by cutting stems just above two new sprouting lateral branches to get lush regrowth. Keep flower buds pinched off to extend harvesting and feed regularly to promote new growth.