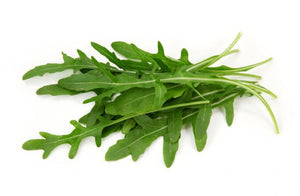 Arugula/Roquette Variety Seeds 1 oz.
Sale price Price $2.52 Regular price
A popular and fun addition to your lettuce garden, plant Rocket Arugula to augment your salads with a spicy, nutty flavor. Harvest young while leaves are subtle and peppery. A fast growing leaf, plant Rocket Arugula in either spring or fall. Plant your arugula seeds in the early Spring when the soil is between 40 and 65 degrees F.
Plant the seeds in your soil, cover them lightly with soil and water them down. The seeds will germinate within around 7 days. Arugula does best with a fair amount of sun, soil that well-watered and high in nitrogen. Arugula generally takes around 40 days to become fully mature to harvest..
Grows 6-12 Inches

About 40 Days to Harvest. Recommended for Zones 3-9. Heirloom, Open Pollinated

Adaptable to full sun or partial shade