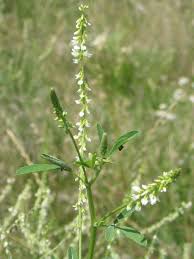 WHITE BLOSSOM SWEET CLOVER SEEDS
Sale price Price $5.85 Regular price
White sweet clover requires moist soils and cool temperatures for germination and is generally seeded from bulk clover seeds in early spring to accommodate these conditions. Sweet clovers are widely used as erosion controls, ground cover, forage, and honey production. White sweet clover is a low-growing form of clover which produces a white flower.
The blooms are sweet smelling and a favorite of honey bees and give their honey a recognizable flavor. The average germination time is seven to 10 days for white sweet clover seeds.
Soil temperatures are an important component in clover seed germination. White sweet clover germinates at a minimum 41 degrees Fahrenheit but the best germination occurs when soils are 64 to 68 degrees. Combined with white clover's requirement for moist soil and cool ambient temperatures, spring is the optimum time for germination.
Key Factors:
Shade: Full Sun

Bloom Period: Summer to fall

Bee Pollinator/wild life – food plot seed

Flower Color: White