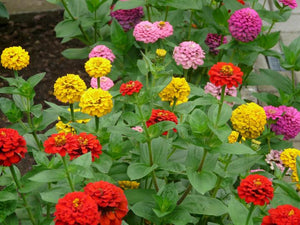 Zinnia Lilliput Seeds 1 oz.
Sale price Price $3.95 Regular price
Medium height stems produce lovely little blooms in a multitude of colors! Uniquely shaped Lilliput Zinnias bloom in small, round baubles that add interest and texture to your garden, or flower arrangments!
A favorite of crafters, florists and gardeners alike, Zinnias are easy to grow annuals, preferring warm weather and full sun!
Annual; Grows 18-24 Inches
Easy to grow; Summer blooming
Prefers full sun exposure
Various colors
1 ounce if seeds =2,000 (+/-) seeds